Pin Up bookmaker is a content-rich gambling site with everything you need for simple, fun, and enriching gaming sessions. This bookmaker has plenty of sports and betting options for every occasion. If you're in search of a sportsbook with a unique design, wonderful atmosphere, and user-friendliness, then register and make your PinUp bet today.
What You Can Expect to Find at Pin Up Sportsbook
There are many things that make Pin Up stand out from the crowd. Below we'll list some of the facts that you need to know about this bookmaker:
An official license № 8048/JAZ2017-0003 from the Curacao Gambling Commission;
Multiple bonuses and promotions that will help you along the way;
Two separate mobile apps: one for Android and one for iOS;
A multi-level VIP program where you can earn Pincoins and later exchange them for real money and/or lucrative bonuses;
The minimum deposit is 800 INR while the minimum withdrawal is 1200 INR;
A sign-up bonus that can get you up to 25,000 INR.
Now let's get started with the Pin Up bet review.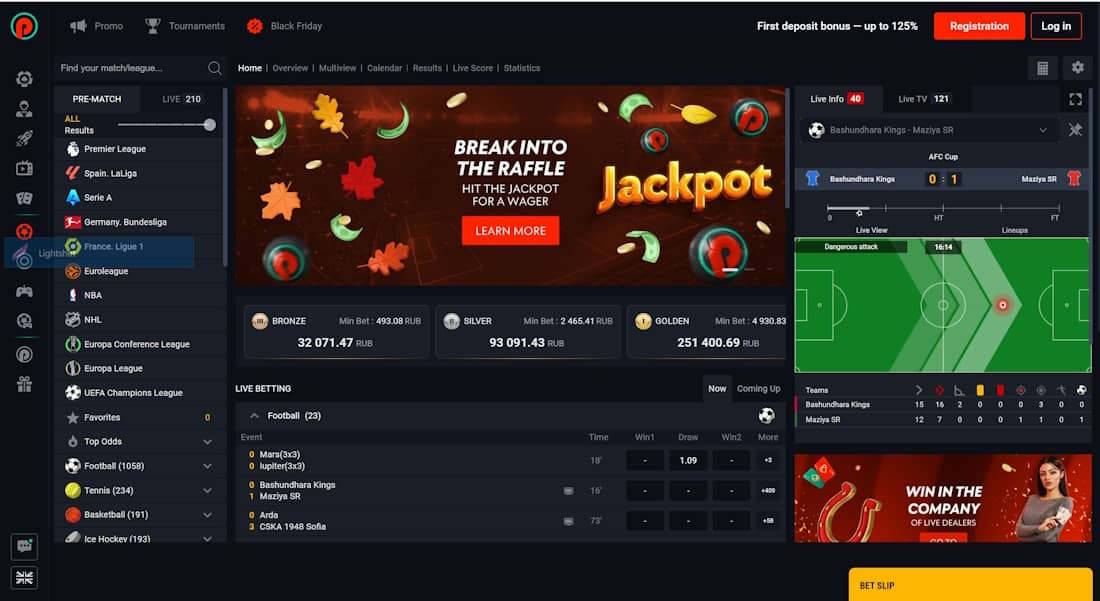 Pin Up Betting Odds and How They Work
Pin Up offers highly competitive odds that are amongst the best in the industry. But how do they work?
Betting odds are the most important element when it comes to sports betting. They not only reflect the possible win but also represent the probability with which the event will occur.
To determine the odds, the bookmaker works with extensive statistics and probabilities for all sports and leagues.
As a rule, if the betting odds are low, the probability of the result occurring is high. And the opposite.
Betting odds can be fixed or variable. Fixed odds remain fixed once they've been set, while variable odds change over time.
The bookmaker sets a probability for each sporting event. Imagine Team A playing Team B, and Team A has a 60% chance of winning. In this case, Team B has a 25% chance of winning, and the draw is estimated at 15%.
Since the sportsbook also wants to make a profit, they do not pay 100% of the money back to its customers. The payout ratio is usually between 80 and 95 percent.
The bookie calculates the odds using the following formula: odds = 1 divided by probability. So Team A to win = 1 divided by 0.6 = 1.67.
Now the sportsbook has to include its profit in the odds. For example, if it keeps 10 percent of the profit, the odds are multiplied by 0.9.
If it keeps 20 percent, the odds are multiplied by 0.8. Thus, taking into account the 10 percent profit of the bookie, the odds 1.67×0.9 become the odds 1.5.
Pin Up hires experts who set the betting odds for them. These so-called traders are not only familiar with the various sports but also have a special talent for mathematics.
They calculate the real odds, or they estimate the probability of a certain event occurring. To do this, they use mathematical models.
Of course, live odds are calculated differently. In the case of a football match, goals would significantly affect the odds.
But also the way the teams play, the appearance of individual players, or even changes in the weather can alter the outcome of the game and thus the betting odds.
If there is no live stream for certain events, bookmakers have to hire special employees who are on-site and pass on important information about the game.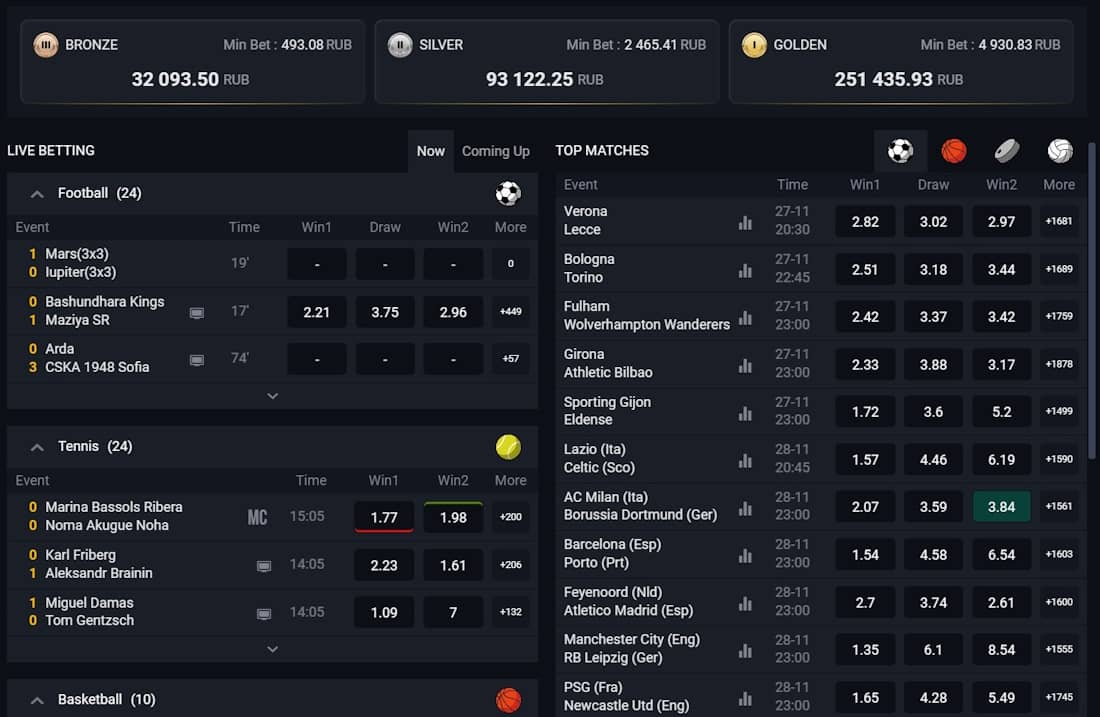 The Three Most Common Types of Bets at Pin Up
Sports betting is on the rise, so it's no surprise that more and more bettors want to try their luck in betting. But what is a good way to get started?
If you're feeling overwhelmed by looking at the betting options, then read on, as we'll explain how the most common types of bets work, including the moneyline, over/under, and against the spread.
Soon enough you'll learn what all of these betting options are and how to use them to your advantage. So, let's dive in!
Moneyline
We'll be using an example of an NBA game to make things as clear as possible.
Imagine that you want to make a Pin Up bet online on the Nets against the 76ers. You want to take the Nets to win straight up. So it doesn't matter by how many points they will win as long as they come out victorious.
This kind of PinUp bet is considered a moneyline bet. It's very straightforward.
You will see the offering for moneyline bets in the far right column of Pin Up. They are simply listed with a + or — sign. In this example, the Nets are +155, while the 76ers are -188.
These two signs tell you how big your payout will be if your bet ends up winning. The minus also specified that the team is favored.
Conversely, the plus sign stands for the underdog. And depending on how big the underdog is, the potential payout can be moderate or huge.
In this case, you put 100 INR on the Nets to win, and if they manage, your profit will be 155 INR, so you'll get a total payout of 255 INR.
Over/Under
Let's get back to our example. The expected number of points set by Pin Up for this game is 230,5.
What this means is that you need to guess whether or not the score will be higher or lower than this number.
In this case, both teams are offered at -110. In other words, Pin Up believes that the teams are evenly matched. It's essentially a coin flip, and you have 50/50 odds to win this Pin Up bet India.
Therefore, to win 100 INR, you have to bet 110 INR, no matter which outcome you pick.
Point Spread
When it comes to betting on sports, one of the most important concepts a bettor needs to understand is the point spread.
Also known as the "line" (short for betting line), the point spread indicates by how many points (or runs/goals) a team needs to win by for your Pin Pin Up bet to pay out.
If the point spread is set at -6.5 on the Patriots versus the Bills, that means they have to beat the Bills by a minimum of seven points for them to win against the spread (ATS).
When tracking teams throughout the season, their ATS is an indication of their record when using the final point spread.
Oftentimes, a half-point is added to the point spread to prevent ties, also known as "pushes," where neither the bettor nor the sportsbook wins, and the money bet is simply refunded.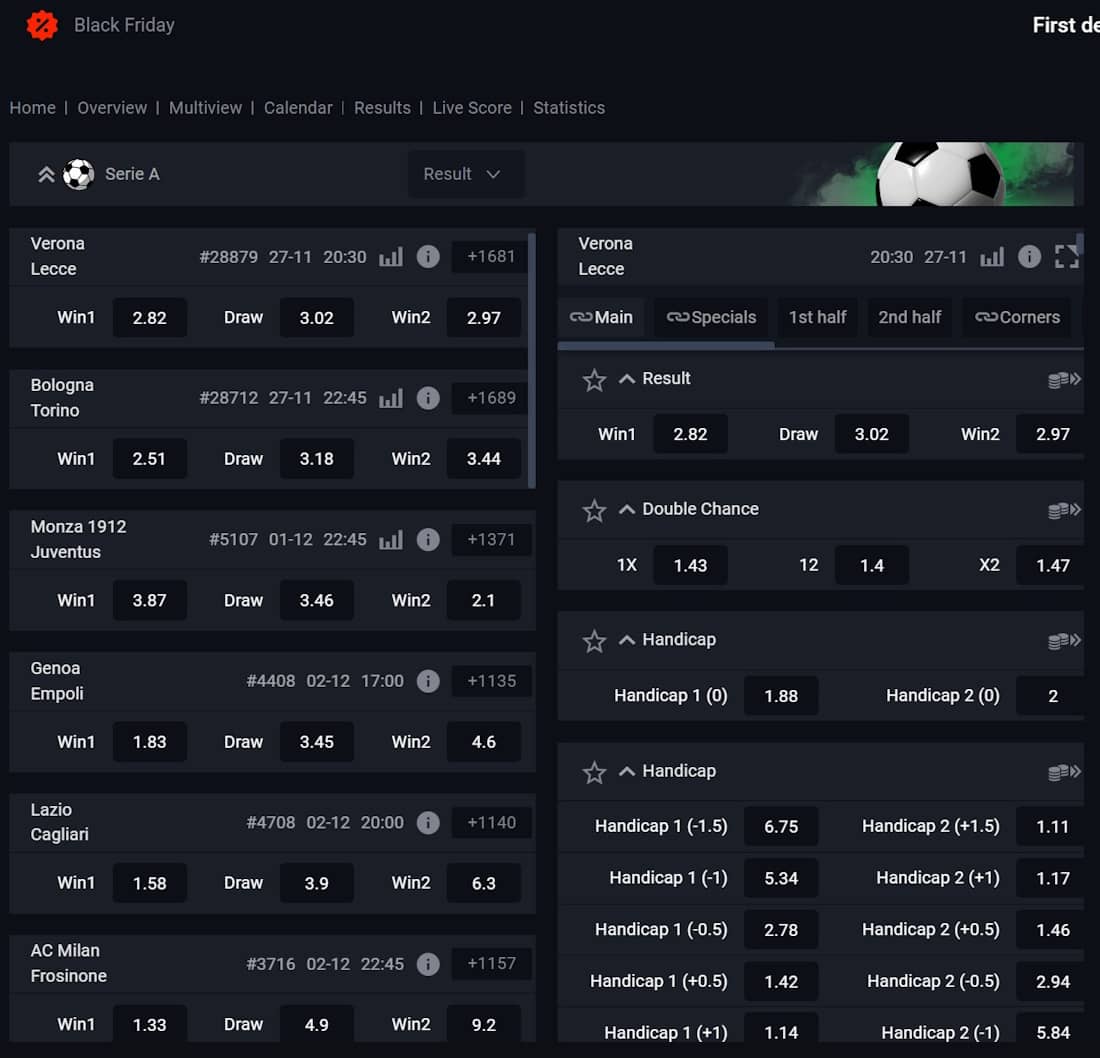 How to Place Your Wager
To make a Pin Up bet, you need to click on the betting lines and choose from one of many events. It's simple really.
But just in case here is a step-by-step guide to making your first bet at Pin Up:
Select an event.
Click on its name to see all the available outcomes.
Select a market and click on the value of the corresponding odds.
Set the size of the bet and select the type of bet.
Confirm the sport bet Pin Up.
It's possible to place bets not only on popular sports (such as football, tennis, basketball, hockey), but also on exotic ones like cricket, biathlon, darts, and so on.
In addition, Pin Up has a wide range of e-sports. You can Pin Pin Up bet on the following:
League of Legends;
Dota 2;
Valorant;
CS: GO;
Starcraft II;
Overwatch;
Rocket League.
The number of available bets for each event depends on the popularity of sports and the tournament.
System Bets Explained
System bets have existed for quite some time now, yet even some professionals don't dare to try them out. This is because they are considered quite risky.
These types of bets may seem complicated at first glance, but the principle behind them is surprisingly simple.
In short, a system bet is a combination of different bets. Of course, you are the one to determine how many single bets to place.
This creates a large combination bet with, for example, four individual bets, which then do not all have to occur.
Rather, it is stipulated that only three individual bets should exist. Since there are four ways to do this, four combination bets are created in this case, which are automatically assigned a separate stake in this 3 out of 4 system and evaluated separately.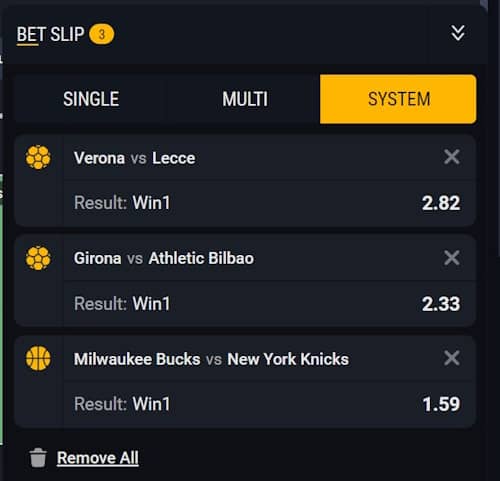 Live Pin Up Betting
The easiest way to explain live betting is once again by using an example. Let's say there was a hypothetical American football game with the following point spread odds:
Team A: — 6 ½.
Team B: + 6 ½.
At these odds, Team A is the favorite and Team B is the underdog, likely based on past performance as judged by the oddsmaker.
But let's say that Team B receives the opening kickoff of the game and the returner takes the kick back for a touchdown.
Team B's kicker scores the extra point, and suddenly they are 7-0 ahead of Team A a few seconds after the start of the game.
This changes the perspective of the game. If you were to make a Pin Up bet live on this game, the oddsmaker would probably lower the early spread odds for a moment.
The oddsmakers could open the lines a few moments after touchdown with the following odds:
Team A: -2 ½.
Team B: +2 ½.
Note that the bookie didn't just completely flip the script and make Team B the favorite.
After all, there is still a lot of time left in the game until Team A comes back.
And the factors that made them the favorites in the first place weren't completely wiped away by a touchdown.
However, if the game were to progress to the point where it was late in the third quarter and Team B was still in the lead, you could see the odds shift to make Team B the favorite.
The oddsmakers will constantly update the odds to reflect what is happening on the field.
The odds can change from minute to minute, which is why you should pay close attention to what is happening in the game.
With live betting, you can continue betting until the final moments of the game.
As a result, you could potentially make dozens of bets throughout the game.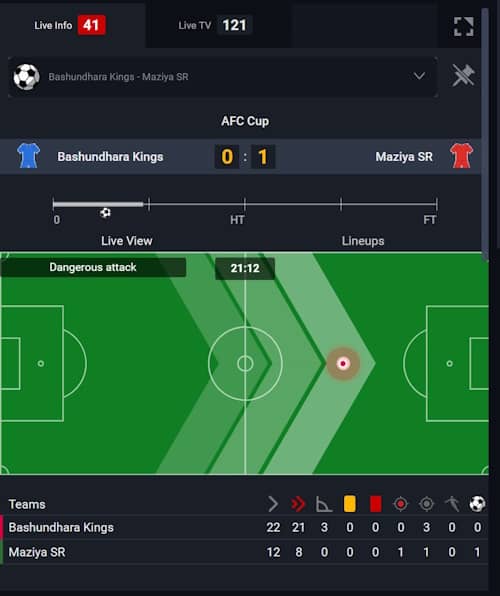 Prop Bets
Prop bets are basically wagers on anything other than the winner of the final score of the game.
Many players love prop bets because they are highly entertaining and offer an absolutely new experience.
They are also quite diverse. You can make a Pin Pin Up bet on pretty much anything you can think of.
The most notable examples of sports props are.
Common Yes/No Prop PinUp Betting Opportunities:
How Many Corner Kicks Will Both Teams Take?
Will There Be a Touchdown in the First Half?
How Many Aces Will Both Athletes Serve?
Will the Team That Scores First Win the Match?
Player-Specific and Team-Specific Prop Bets:
Will Messi Score a Goal?
Will Juventus Get a Penalty Kick?
Will Liverpool Get a Red Card?
Will Kevin De Bruyne Make an Assist?
The above-listed props are very common. The good news is that Pin Up betting options are almost endless.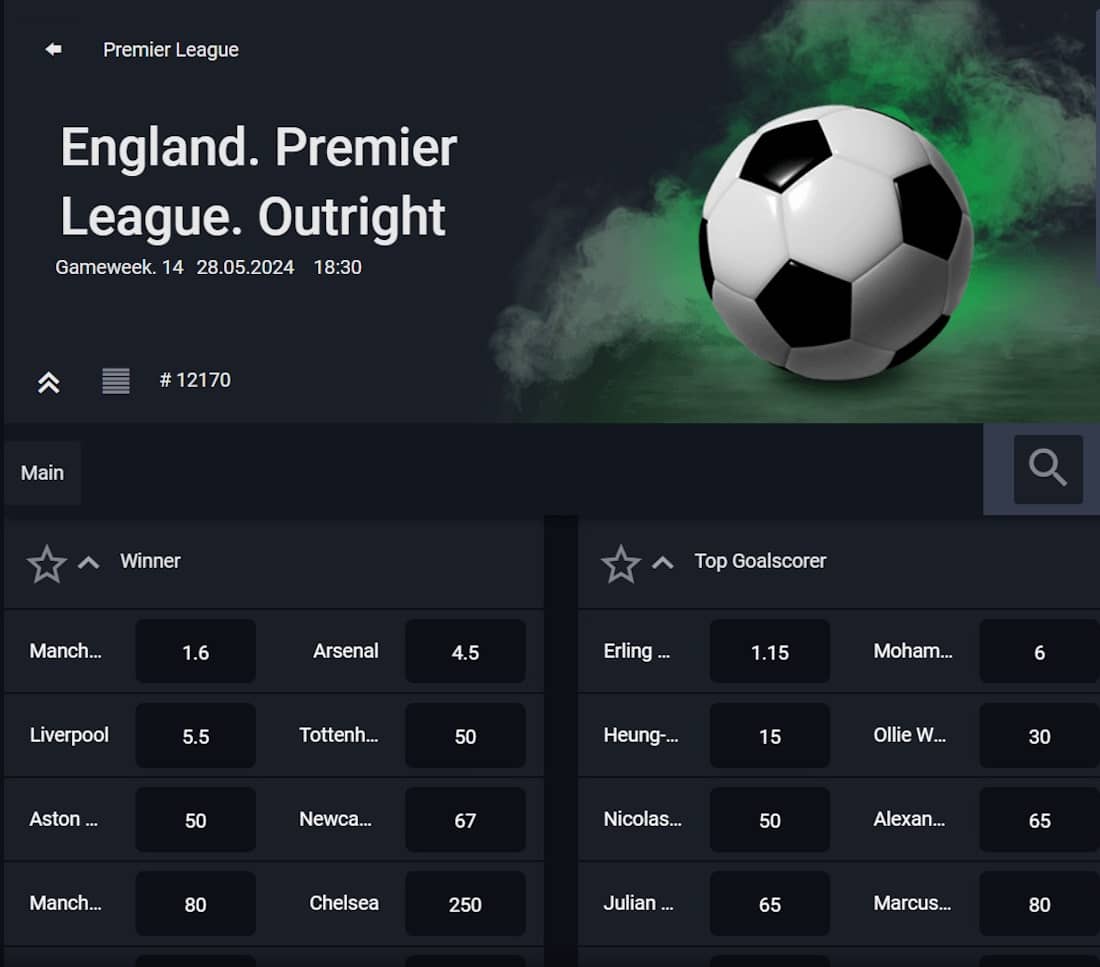 Banking Methods
Deposits and withdrawals with a gambling site are similar to shopping online these days.
You go to the deposit section on the bookmaker's website, choose the payment method you want to use, decide on your deposit amount, and complete the transaction.
Your account balance will then be updated in a few seconds. If you have previously activated a welcome bonus, you will be credited with additional money.
Many different payment methods are accepted, from the leading card payment organizations like Visa and Mastercard to e-wallets like PayPal, Skrill, Neteller, Paysafecard, and so on.
As you can see, the choice is huge, and you can choose any banking option to your liking to top your account and start making bets at Pin Up.
| Payment option | Payment method type | Deposit processing time | Payout speed |
| --- | --- | --- | --- |
| Visa/Mastercard | Credit/debit card | Instant | 0-72 hours |
| Skrill | Electronic wallet | Instant | 0-48 hours |
| Bitcoin | Cryptocurrency | Instant | 0-48 hours |
| Neteller | Electronic wallet | Instant | 0-48 hours |
How to Cash Out Your Winnings
Withdrawing your winnings is just as simple as topping up your Pin Up casino. Follow these steps:
Open up the "Cashier" section.
Select a suitable payment method.
Enter the sum you wish to withdraw.
Confirm your selection.
Wait for the money to arrive in your bank account.
What Makes Pin Up Such an Attractive Gambling Destination?
Pin Up seamlessly combines the thrill of sports betting with the excitement of casino games. It has everything you could dream of.
After visiting Pin Up, you won't have to look for another gambling site as it offers everything necessary for players' needs.
It is one of the most ambitious gambling sites that has managed to put together both the casino and sports betting sections.
Pin Up attracts players not only with a decent selection of entertainment but also with high-quality service.
Professional support Pin Up bet staff are always there for you, and you can count on fast payouts. All of these things make this gambling site stand out from the crowd.
Create an Account
Signing up with Pin Up is incredibly simple. Just follow the steps below:
First, you need to go to the bookmaker's official website and click on the "Register" button.
After the registration form appears, you will need to click on the registration button.
Next, you need to choose a suitable registration method. You can register by email or by phone.
Depending on the method you choose you'll need to provide either your email address or phone. Don't forget to read the privacy policy and terms and conditions.
Next, you need to enter your personal details, i.e. your name, country, city, address, zip code, gender, date of birth, etc.
Once you have provided all the required information, don't forget to confirm your email. After that, you can start playing any game to your liking.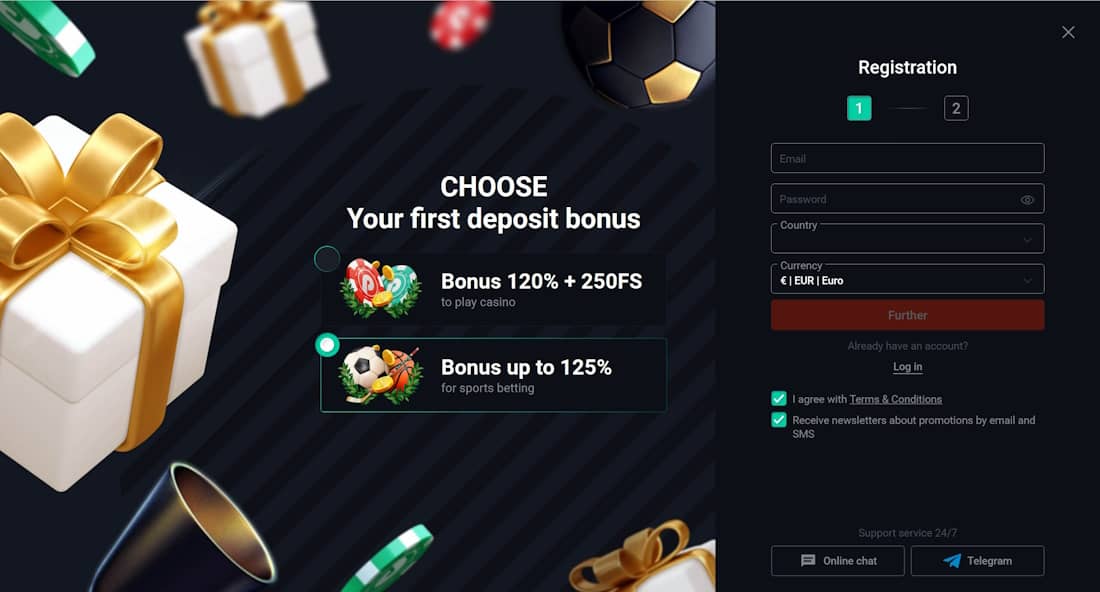 Getting in Touch With Customer Support
Whether you have some sort of a problem or want to learn more about a specific bonus or product, you can always message the helpful support team using any of the following options:
The website also offers a detailed FAQ section.
| Type of customer service | How to get in touch | Response time |
| --- | --- | --- |
| Email | [email protected] | Within an hour |
| Phone | +35722008792 | Instant |
| Live chat | Available on the official website of the casino | Up to 20 minutes |
Pin Up Casino — Plenty of Pleasant Surprises for Every Type of Player
Pin Up is the way to go if you're looking for a decent bookmaker with a wide range of betting markets. You can bet on pretty much anything and the odds are above par. Sign up today and get the best value for your money!
FAQ
How Much Money Can Be Withdrawn From Pin Up?
How Do I Activate My Free Bet?